22: Will Mancini – Stop Faking Disciples & Real Church Growth
Breakthrough ideas with Will:
Will Mancini thinks that the Program-Church Paradigm must soon come to an end.
Will Mancini unpacks the "Functional Great Commission" and involvement in church stuff rather than disciple-making.
Does your church activity lead people to life on life disciple-making?
The local church is not only a community of belief; it must be a community of practice as well.
Program Church was a viable model for a long time, creating an illusion of fluency around disciple-making through attendance in worship or groups. Probably not much longer.
Every church is both making and faking disciples to some degree.
Our best churches are beginning to experience a significant decline in attendance, even with what would have been considered relevant, engaging services ten years ago.
Does counting engagement instead of attendance address the more significant problem of not making disciples at our church?
What is real church growth? It is the idea that we can be vital and influential in our community through a commitment to both the organization and individual disciple-making.
Does your programming exist to support and nurture disciple-making?
What if the most important crowd in your church was the sphere of influence Monday-Saturday of those who show up on Sunday morning?
The people connected to the people of your church could be your most important crowd. Your church has a more significant footprint of influence for the gospel than you know.
What if you shifted your focus to impact the "cloud crowd" not the Sunday crowd?
Real church growth starts first with a culture of mission, not with a culture of worship.
Mission always precedes worship. Before we respond to the worship of God, we must respond to the mission of God.
What connects your people emotionally to the church? Most churches would revolve around one of four, temporal connections. Will Mancini shares the four.
You only have a church to the degree that there are people who are more connected to the mission of Jesus than they are to the building, to a class or group, to a particular program, or the personality of a leader.
There is a difference in the size of your ministry and the size of your church. You don't have a church if people are not connected first to the mission of Christ at your church.
Content has now become a cultural commodity… there has to be more to your church than teaching because better teaching exists in abundance online.
What if your church moved from a teaching center to a training center?
Real church growth can happen, but it will not happen fast or without investment.
The more willing you are to pause and reflect on life, the abler you are to experience progress.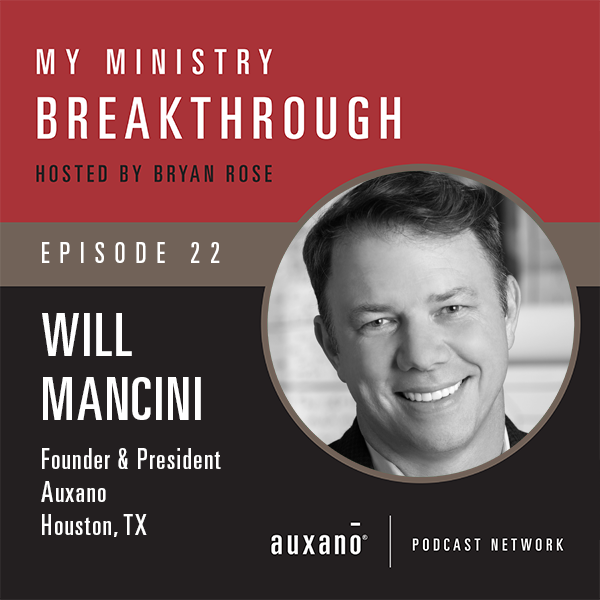 Podcast: Play in new window | Download
Subscribe: Apple Podcasts | RSS | More